---
Amy Reed, MD, PhD, an anesthesiologist whose laparoscopic hysterectomy in October 2013 called into question the safety of power morcellation, died Wednesday, May 24, at 44 years of age from uterine cancer.
Dr Reed, a mother of six, underwent the hysterectomy at Brigham and Women's Hospital in Boston, Massachusetts, to remove fibroid tumors. Power morcellation, intended to shred uterine tissue for removal through a laparoscopic incision, dispersed and upstaged an undiagnosed uterine leiomyosarcoma inside her abdomen.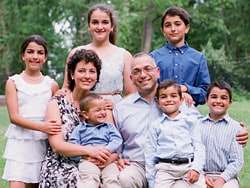 While she battled through a series of surgeries and procedures, Dr Reed joined her husband, Hooman Noorchashm, MD, PhD, in a high-profile campaign to ban the use of the devices during gynecologic procedures and bolster oversight of all medical devices by the US Food and Drug Administration (FDA). The couple pressed for government investigations and legislation, coauthored articles, testified before the FDA, and shone a spotlight on women who had died after morcellation-upstaged occult uterine cancer. […]
"She spoke without apparent anger or bitterness about what happened to her, which amazed me," Dr Zuckerman told Medscape Medical News. "I can't tell you what an impressive, gracious, wonderful woman she (was)." […]
"We all knew the odds were against her," said Dr Zuckerman, "but Hooman and Amy were both determined to beat the odds. They made it seem possible." […]
Read the original article here.
NCHR honored Dr. Amy Reed with a Health Policy Hero award in 2015; see the pictures here.